How To Calculate The Return On A Rental Property!
This week we are going through the numbers behind qualifying an Investment Property. 
Through the four quadrants below (Income / Expenses / Cash Flow / Cash on Cash Return) we break down the numbers for an investment property here in Vancouver. This break down is the easiest & most basic way to break down a Real Estate Investment to get to the cash on cash return.
CASH ON CASH RETURN: The ratio of annual before tax cash flow to the total amount of cash invested, expressed as a percentage. It is often used to evaluate the cash flow from income producing assets.
The reason you want to know the cash on cash return is so you can easily compare said real estate investment with other investments to gauge what you want to deploy your investment dollars into. This brings everything down to the same level making for an easier investment decision. Real Estate, Stocks or a business venture, this will allow you to gage what is most appealing to you as a potential investor.  
The first thing we want to do is accurately gauge the income that the investment property is able to produce. As this subject property is a stratified condo in downtown vancouver we simply have 3 potential options for income:
- Unit Rental
- Storage Locker Rental
- Parking Stall Rental
You may be able to achieve different levels of income depending on your property type. If you have a house with the top floor & bottom floor rented with a shared laundry, charge for the laundry use for example.
As you will see below in the INCOME column we have highlighted what this specific property would achieve in the current rental market climate.
Next you need to figure out the total monthly expenses for the subject property. This may very well be different for every property or building or property type (house / condo). The all numbers at this stage must be broken down to their monthly denominations for ease of the equation. 
 In this case we have broken expenses down into the following criteria:
- Taxes - Property Taxes 
- Insurance - Home Insurance
- Strata Fees - Monthly building fees
- Vacancy (5%) - I like to account for 5% of the monthly income just incase you have a couple of vacant months 
- Repairs - you may need to repair the unit at some stage, plumbing, lighting etc. have an account set aside for this.
- Capital Expenses - The building may have an assessment that could wipe your income for the year. save for this.
- Property Management (10%) - you may choose to get a manager so you don't have to.
- Mortgage - your monthly mortgage cost
There may be other expenses depending on your property type. You may have to cover lawn care for a house or even unitizes for your investment property. If that is the case, just add them to your chart below.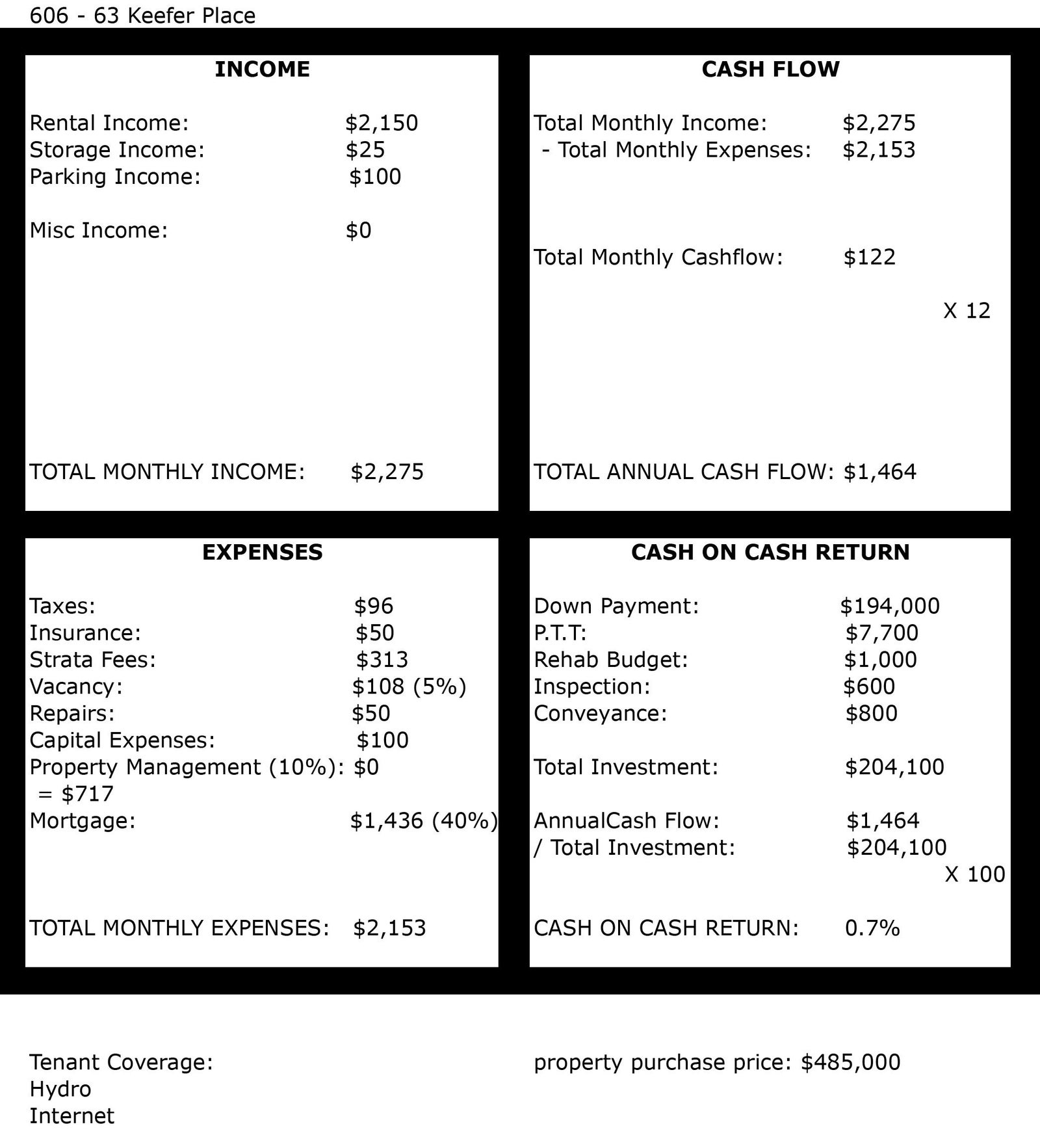 This is where we start getting to the interesting side of the investment option. Here is the simple equation where you minus your total expenses form your total income to determine if this is in face a positive or negatively cash flowing investment option. This this case it is positively cash flowing. You then take that positive monthly cash flow amount and times by twelve (12 month / annual total).
And now the final step. In this final quadrant we are determining the Total Investment Cost for this property. In this case (I believe all property types will be relatively similar to this) we are breaking down the following numbers:
- Down Payment - amount of cash you are putting down for the purchase.
- Property Transfer Tax (PTT) - property transfer tax (1% on the 1st $200k & 2% on the balance of the purchase price).
- Rehab budget - if any immediate upgrades / updates need to take place prior to renting.
- Inspection - Home Inspection Report.
- Conveyancing - Property conveyance (Notary / Lawyer).
Now that these costs are determined, you can add them together to determine the Total Investment for this property. Once we have this number, we then go to the last quadrant and take our Annual cash on cash flow & divide that by the Total Investment Amount. This will give us a very small number. We then multiply that number by one hundred to get the applicable cash on cash return for this specific investment. And that is it! No you know what you are getting in return for the money you put into the investment.
Now, there are a number of additional layers that can be added onto this that we are not including here. How long it will take to pay off the outstanding loan on the investment, how much principal are you paying the loan down with every month as opposed to interest payments on your mortgage etc. We can go on forever. However the main question is what amount of cash on cash return is a good return to expect etc. This is personal preference to your expectations and the other investment types and returns you are comparing this piece of real estate to.
For ay further information on this topic please don't hesitate to be in touch at your earliest conveince at the following details!
Jay McInnes 
604 771 4606
jay@mcinnesmarketing.com
Ben Robinson
604 353 8523
ben@mcinnesmarketing.com